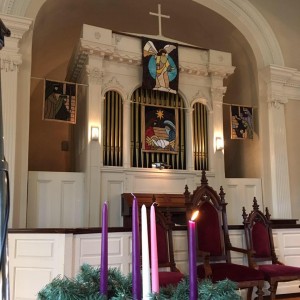 Sharing of the Advent Wreath on the 1st Sunday of Advent*
The Advent wreath is symbolic in its construction:
The circle says God's love and care are eternal.
The green leaves say that God's love and care are renewed every day.
The cheerful light of the candles is like the brightness of Christian hope.
Each candle stands for a different foundation within Christianity.
The first is the candle of hope. Let me share what hope means to me:
The world has so much…
            so much pain
            so much anger
                        so much hunger
                        so much poverty.
And we have hope.
We come from a long line of believers and disbelievers - enslaved, wandering in the desert, muttering, wondering, and hoping.
As we gathered to give thanks this Thanksgiving, I noticed even more emphasis on family, peace, and love. We gathered to hear stories - I learned about hard times - my mother spoke of hearing about the bombing of Pearl Harbor. She spoke of sorrow, but of hope and action.
I have hope. It's not just passed down from my mother. We are a people of hope and action: From rummage sales, to dinners, in gathering together, in praying alone, from chocolate bars to safety pins.
We educate ourselves, pledge to make the church more accessible and join in song - with all our hearts and who we are.
The world has so much…
            so much to offer
            so much beauty.
There is a baby. A child who leads me. And I have hope.
Let us join together in prayer:
(All) God of hope, we thank You for the hope You gave the Jewish captives in Babylon. The hope of Messiah who would bring peace, joy, and righteousness. We thank You for the hope You have given us. It makes our lives bright. We look forward to the celebration of the coming of the Messiah. Help us to share the Good News with our neighbors. Amen.
*Narrated by Betsy Burghardt, with the italicized words being her own.